For Consumers
Magen Tzedek was created for you. As we progress in our development process, we hope you will be on the lookout for products bearing the Magen Tzedek seal in your supermarket or grocer. Browse our site to learn more about Magen Tzedek standards for ethical food production. Get involved in promoting Magen Tzedek within your school, synagogue, community, summer camp or place of work.
Join the global Magen Tzedek movement. Because we are what we eat.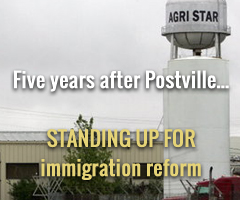 Latest News
Make a Gift Today
By making a donation, you can make a difference in the lives of people, animals and the Earth. Learn how.