Certification Application
Kosher food manufacturers wishing to apply for Magen Tzedek certification can begin the application process by completing the following two forms:
Self Study Form allows applicants the opportunity to gauge their degree of compliance with the requirements of the Magen Tzedek Certification Standard prior to a formal application.
Pre-Screen Application Form identifies and collects relevant company information and practices for the formal audit process. This document must be completed and submitted to the Magen Tzedek Commission as the first step in the application process.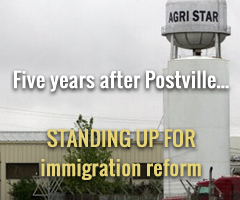 Latest News
Make a Gift Today
By making a donation, you can make a difference in the lives of people, animals and the Earth. Learn how.