Certification Criteria
The mission of the Magen Tzedek Commission is to ensure that kosher products conform to the Jewish commitment to ethical and social justice in the areas of labor practices, animal welfare, consumer issues, corporate integrity and environmental impact.
The scope of the Magen Tzedek certification is that only finished food products that are made in the United States shall be evaluated and certified. The Magen Tzedek service mark shall only be appended to products that are already certified as kosher or those foods which the Association of Kashrus Organizations deems do not require kosher certification.
Certification for the Magen Tzedek service mark shall be for a period of two years, after which entities must be recertified.
View the complete and final standard governing compliance with the Magen Tzedek Seal of Justice.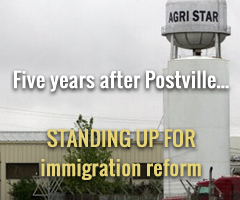 Latest News
Make a Gift Today
By making a donation, you can make a difference in the lives of people, animals and the Earth. Learn how.