General Inquiries
Have a great idea for us?
Interested in getting a speaker for your community?
Wondering where to find foods with the Magen Tzedek seal?
Need educational materials about Magen Tzedek?
Interested in networking with other supporters of Magen Tzedek?
For these and other general inquiries, please contact info@magentzedek.org and we will respond to you as soon as possible.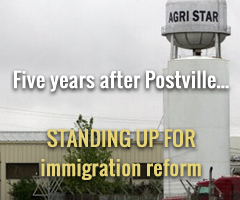 Latest News
Make a Gift Today
By making a donation, you can make a difference in the lives of people, animals and the Earth. Learn how.