Contact
We encourage you to be in contact with the members of the commission on all matters relating to Magen Tzedek.
Are you a food producer interested in speaking to someone about the application process? Please contact certification@magentzedek.org.
Are you an individual or organization wishing to make a donation but seeking additional information? Please contact harvey@magentzedek.org.
Are you interested in bringing a speaker to your community to talk about Magen Tzedek? Please contact harvey@magentzedek.org.
Do you have a great idea for us?? Email us at info@magentzedek.org.
Are you a reporter who needs to interview a member of the Commission for a news or feature story or receive additional information? Contact Rabbi Morris Allen at morris@magentzedek.org.
We appreciate your interest and will respond swiftly.
To reach us by phone, please call our toll-free number: 888-264-3559.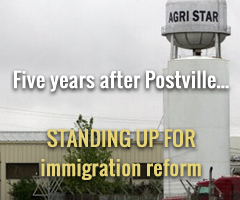 Latest News
Make a Gift Today
By making a donation, you can make a difference in the lives of people, animals and the Earth. Learn how.