Study Materials
Webinar Series
The 2010 Magen Tzedek webinar series has been archived. The following recordings and accompanying presentations are available for downloading:
Webinar #1: Halakhah Introduction (August 31, 2010)– Halakhic grounding for Magen Tzedek principles – taught by R. Avram Reisner.
Webinar #2: Animal Welfare (October 5, 2010)– Animal welfare concerns – taught by Dr. Joe Regenstein.
Webinar #3: Labor and Humans (October 19, 2010) – Labor concerns and human dignity from a Jewish perspective – taught by R. Morris Allen.
Webinar #4: Implementation of Magen Tzedek Values (November 2010)– taught by Eileen Kaufman, SAAS.
The recordings which are part of the webinar series require the WebEx ARF player for playback. Please download and install this player prior to downloading the recordings above.
Rabbi Avram Reisner has authored the premiere text for Magen Tzedek, Al Pi Din.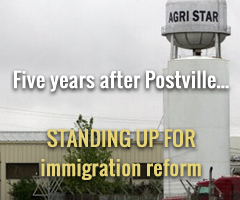 Latest News
Make a Gift Today
By making a donation, you can make a difference in the lives of people, animals and the Earth. Learn how.