The Magen Tzedek Standard
In 2008, a commission was formed by prominent leaders of Conservative Judaism to develop and apply a set of standards that would certify that kosher food manufacturers in the US operate according to Jewish ethics and social values. The Commission formalized its status and organized as an Illinois not-for-profit corporation on January 31, 2011 and operates under IRS 501(c)3 status as the Magen Tzedek Commission NFP.
The Magen Tzedek Commission has developed a food certification program that combines the rabbinic tradition of Torah with Jewish values of social justice, assuring consumers and retailers that kosher food products have been produced in keeping with exemplary Jewish ethics in the area of labor concerns, animal welfare, environmental impact, consumer issues and corporate integrity.
The cornerstone of the program is the Magen Tzedek Standard, a proprietary set of standards that meet or exceed industry best practices for treatment of workers, animals, and the Earth; and delineates the criteria a food manufacturer must meet to achieve certification. Upon successful certification, the Magen Tzedek Commission will award its Shield of Justice seal which can be displayed on food packaging.
The Magen Tzedek seal is available only for products that currently carry a traditional Hekhsher seal from an authorized kosher certification agency. It is not intended as a replacement, but rather a complementary enhancement to a brand's reputation.
The Magen Tzedek seal can be placed on a wide range of grocery products including meat/poultry, dairy, dry grocery, canned/bottled goods, refrigerated/frozen products and baked goods.
With many labels and certifications addressing separate aspects of food and its production – organic, fair trade, etc., the kosher-conscious public needs a way to buy food with the assurance that it was produced consistent with the Jewish tradition of justice and ethics, while suited for today's complex world. Magen Tzedek is very much part of the spirit of values of contemporary American Jewry, which acknowledges the importance of acting with integrity. As the only US religious symbol signifying ethical standards in the production of food, Magen Tzedek is a symbol that all people of conscience can support, without regard to their religious affiliation or observance.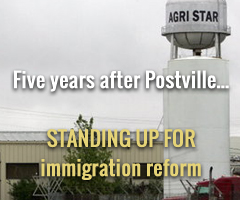 Latest News
Make a Gift Today
By making a donation, you can make a difference in the lives of people, animals and the Earth. Learn how.