Media Kit
Please visit Magen Tzedek In the News to read the latest articles and coverage of Magen Tzedek.
Need help in developing a story about Magen Tzedek or the commission? Wonder who might serve as a good resource to contextualize this project's significance? Need to interview any members of the team?
Contact Magen Tzedek publicist Shira Dicker at shira.dicker@sd-media.com or 917.403.3989.
For more information about MagenTzedek, please click here.
Please look for additions to this site, including pictures and a PDF of our logo.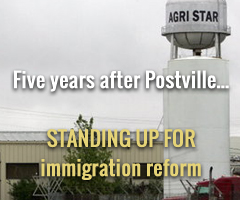 Latest News
Make a Gift Today
By making a donation, you can make a difference in the lives of people, animals and the Earth. Learn how.