The Certification Process
The Magen Tzedek Commission has established a standards and certification program with the goal of bringing the Jewish commitment to ethics and social justice directly into the marketplace and the home.
The achievement of this certification by an applicant entity will indicate that the applicant entity meets the requirements that have been established by the Magen Tzedek Commission and published in the document "Certification Standards for the Magen Tzedek Service Mark". The Magen Tzedek certification program aims to promote confidence that entities which have this credential operate at the high level of ethical and social responsibility associated with the Magen Tzedek standards and methodology.
Once an entity has implemented any necessary improvements, it can earn a certificate attesting to its compliance with the Magen Tzedek Certification Standard. This certification is awarded by certification bodies that are accredited by Social Accountability Accreditation Services (SAAS) in conjunction with the Magen Tzedek Commission.
Certification Process Manual
This manual prescribes the procedures, criteria and methodologies that an audit firm must follow in carrying out the assessment of an entity that applies for Magen Tzedek Certification. This document also provides insight for kosher food manufacturers and processors on how the audit process will proceed.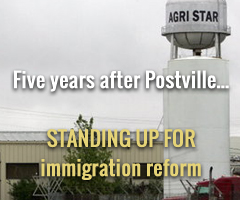 Latest News
Make a Gift Today
By making a donation, you can make a difference in the lives of people, animals and the Earth. Learn how.