Partners & Supporters
The Magen Tzedek Commission is an independent Sec. 501(c)(3) Corporation, resulting from conversations between the Rabbinical Assembly and the United Synagogue of Conservative Judaism over a period of years.  Seed funding is provided by the Nathan Cummings Foundation.
We are engaged with ambassadors across the US, who learn and teach the principles and standards of Magen Tzedek in their congregations. As of August 30, 2010, we have 71 representatives in congregations across the country, comprising more than 50,000 members. See where we are.
Our initiative has received support and endorsement from a wide variety of organizations, spanning the Jewish spectrum.  Included in this group are:
Jewish Community Action, of St. Paul, MN
MAZON: A Jewish Response to Hunger
Hazon
The Central Conference of Reform Rabbis
The Union for Reform Judaism
To learn more about how your organization can partner with Magen Tzedek, write to info@magentzedek.org.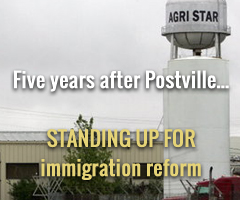 Latest News
Make a Gift Today
By making a donation, you can make a difference in the lives of people, animals and the Earth. Learn how.