Community Groups
Magen Tzedek is a worldwide movement, yet its heart beats within each individual community. Magen Tzedek begins with the commitment to an ethical lifestyle on a local level…within our homes, our places of worship and our larger communities. The continued success of Magen Tzedek depends on a strong basis of community support…in spirit and in deed.
If the principles of Magen Tzedek speak to you, we hope that you will be empowered to create a Magen Tzedek group within your community. We encourage you to study Judaism's extensive teachings on the importance of ethics via resources on our website. We hope that you will be inspired to be advocates for Magen Tzedek by contacting your favorite kosher food companies and letting them know how important the Magen Tzedek certification is to you. We hope that you will model a Magen Tzedek lifestyle and are happy to provide you with the resources for doing so. Please visit this website for continued information about how to form a Magen Tzedek group within your community and how to network with complimentary efforts around the country and the world.
Thank you for your continued support. We truly could not do this work without YOU.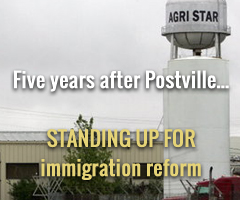 Latest News
Make a Gift Today
By making a donation, you can make a difference in the lives of people, animals and the Earth. Learn how.