Individual Participation
Magen Tzedek is a movement made of people who believe that food tastes best when it is prepared with kindness and care to the wellbeing of people, animals and the environment.
We encourage you to join Magen Tzedek's efforts, and there are so many ways you can participate:
Donating a professional skill, such as fundraising, copywriting, community organizing, networking, public relations or curriculum development.
Are you a food industry professional? We'd love to benefit from your expertise. Contact us!
Are you passionate about the causes you believe in? Create a Magen Tzedek group in your community.
Do you want to change the world? Get involved on an advocacy level in matters of minimum wage legislation, animal rights, environmental activism and consciousness-raising.
There are many ways for individuals to participate in Magen Tzedek.
Network for us. Spread the word that Magen Tzedek is on the cutting edge of reform.
Give us your ideas.
Support us financially. We depend on grants and individual contributions. Every donation is appreciated.
Thank you!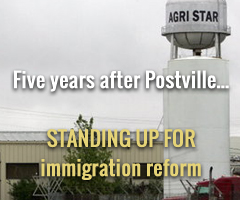 Latest News
Make a Gift Today
By making a donation, you can make a difference in the lives of people, animals and the Earth. Learn how.